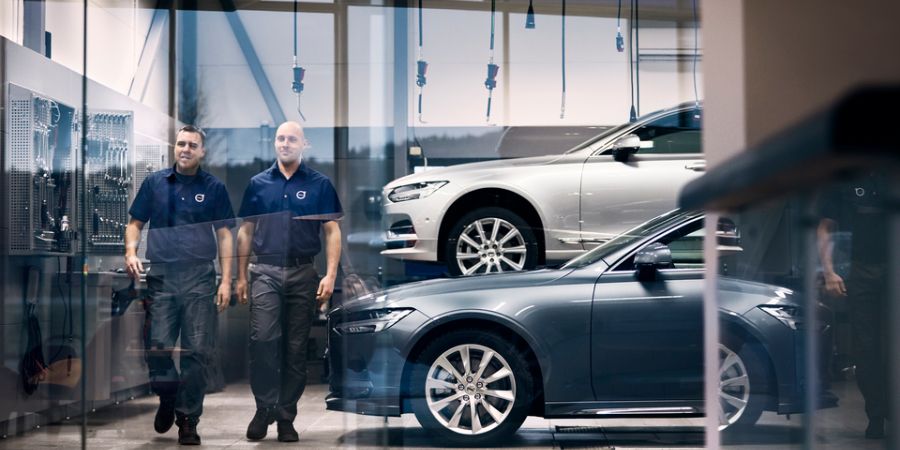 Let Us Help Get Your Volvo Looking Like New: Our Body Shop is Prepared to Help
Volvo is one of the most storied automakers available to drivers today with their long history of creating and implementing innovative safety technologies, a stunning amount of luxury, and plenty of performance to make every drive much more enjoyable. With all of these incredible features, owning a Volvo can be one of the most incredible experiences imaginable and you will want to keep it in tip-top shape for much longer. Luckily for you, you can make the trip over to Autobahn Collision in Chandler, AZ today and get the chance to work with our staff members who are prepared to repair your Volvo's body back to like-new condition!
If your Volvo has suffered some unfortunate damage and needs to be repaired, our location is an incredible place to get everything taken care of by professionals who are prepared to give your car the attention it really deserves. We want to make sure that every driver who makes their way over to our dealership with their damaged Volvo will feel confident in everything we can offer. Thanks to the fact that each one of our staff members are I-CAR and ASE Certified they will be able to use some of the top-technologies and machinery around the Tempe area!
What Steps Are Taken by Our Staff to Ensure Your Volvo is Properly Repaired?
When you make the trip over to our location to have your Volvo repaired by trained professionals, you will love that we are prepared to tackle every step of the process with ease. We have staff members that can walk you through each step from getting an estimate to getting approval from insurance if necessary. With our help, getting the body-work of your Volvo repaired is about to be an incredible time. Schedule your appointment today and see first-hand what we can do!
One of the best parts about working with our body shop is that there are ready to handle nearly any repair with plenty of confidence and make sure that your Volvo will be returned to you in a timely and professional manner. We will make sure that when you come to pick up your Volvo after it is repaired it will be looking downright incredible!
At our location we are prepared to tackle many different repairs like:
Structural repairs: We can weld or replace the numerous parts of your frame to make sure it will be able to retain its normal integrity and performance
Body Repair: Our staff members can repair any of the different body panels on your Volvo to ensure that they will be dent and damage free at the conclusion of the repairs
Paint Repair: We will not only be the premier place for drivers in Phoenix and Mesa to have damage repaired, but we are ready to repaint those repaired parts to get the paint job looking like new
When drivers from all over Chandler area are looking to have their Volvo repaired and looking like with the help of professionals, make the drive over to Autobahn Collision today! We will be here to help and can even make getting a free estimate much easier. Visit us today and prepared to be impressed. See you soon!
Hours
Monday

7:00 AM - 6:00 PM

Tuesday

7:00 AM - 6:00 PM

Wednesday

7:00 AM - 6:00 PM

Thursday

7:00 AM - 6:00 PM

Friday

7:00 AM - 6:00 PM

Saturday

8:00 AM - 12:00 PM

Sunday

Closed