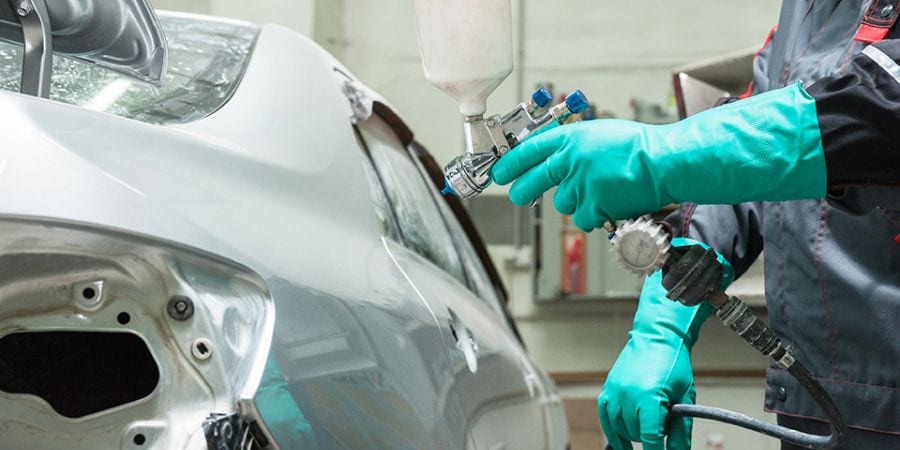 Find Affordable Paint & Refinishing Services for Your Vehicle in Chandler, AZ
To stand out on the roadways in Chandler, AZ this fall, your vehicle not only has to perform well but it also got to look good. Here at our Autobahn Collision facility, we strive to get your vehicle back on the roads looking sleek, clean, and brand new with a fresh paint job. Whether you're dealing with rust pockets on the roof of your car or you're experiencing some paint chipping around your wheel wells, our service experts here in Chandler have the tools you need to restore your car to as good as new.
Proudly serving drivers from the greater Phoenix area, our certified service technicians are dedicated to providing you with dependable and expeditious painting related services no matter how big or small the job is. Among our available services offered here at our facility, our paint and refinish crew is professionally trained to ensure that the quality of your car, truck, or SUV only increases after getting one of our touch-up paint jobs.
Paint & Refinishing Services Available Near Mesa, AZ
Here at Autobahn Collision, we understand the importance of making sure your car is optimized for the roads ahead this upcoming season. That means maybe a fresh oil change, a thorough car wash, and most importantly, a new paint job. Our certified paint and refinishing experts use the latest Waterborne Technology for our refinish products. Utilizing an advanced computerized system to mix and blend the paints with, our Autobahn associates rely on high-speed Spectrophotometer cameras to ensure the quality of the paint is an exact match to your existing vehicle's color.
Additionally, our paint experts here at Autobahn Motors are well-equipped with the latest technology to ensure every paint and refinish job is as meticulous and diligent as the last. By using our state of the art paint booths, our certified service experts can restore your vehicle to its polished and beautiful factory finish without harming the environment.
Visit Our Facility Near Tempe Today To Receive a Free Paint & Refinishing Estimate
Backed by reliability and transparency, our service professionals here at Autobahn Collision aim to streamline your entire service experience from start to finish to ensure you're with us for every step of the paint and refinish process. Bring in your car today and allow one of our dedicated service techs to inspect your vehicle and receive a free service estimate before we begin working on your vehicle. Our goal is to be upfront in terms of the cost of our services so that you're fully aware of what's happening before it happens.
If you're feeling hesitant about the paint and refinishing process or the price, we encourage drivers from Tempe to ask to speak with our one of our service professionals to gain some clarity as to how our services are in line with your best interests. Seeking to bridge the gap between reliable automotive service and customer satisfaction, our Autobahn Collision family is eager to enrich the quality and the lifespan of your vehicle by giving it a fresh paint job before the winter hits.
Learn More About Our Premier Automotive Paint & Refinishing Services Today!
It's no surprise that our Autobahn Collision facility offers drivers near Phoenix, AZ with an array of convenient and affordable paint and refinishing services for their cherished vehicles. To learn more about other automotive services that we provide and to schedule an appointment with a member of our service team, we encourage drivers from Phoenix, Chandler, and beyond to contact us or to visit us in person at our Autobahn Collision facility today!
Make an Inquiry