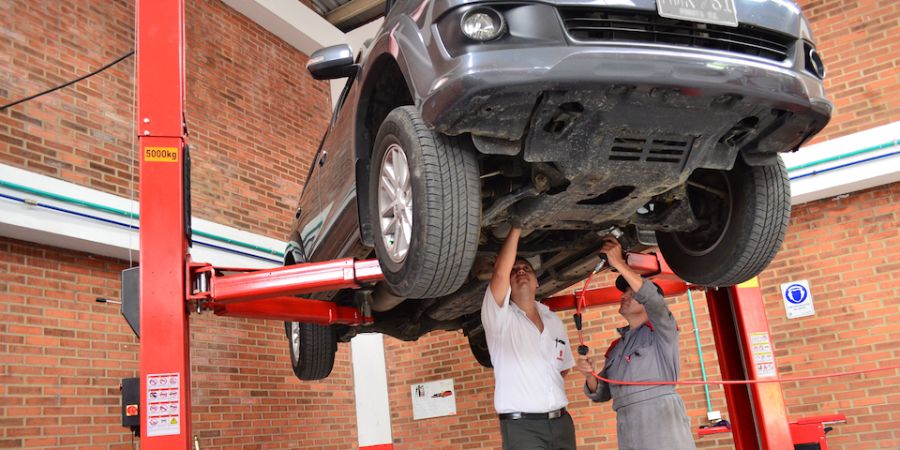 Find Uni-Body and Frame Repair Services Here at Our State-of-the-Art Car Repair Facility
Have you been in a recent collision? Whether you were a party to a minor fender bender or experienced a serious accident while on the roads of Chandler, AZ or Phoenix, you're probably looking for a team of expert and attentive car repair professionals that you feel comfortable turning the keys of your trusted car, truck, or SUV over to. We're an exceptionally high regarded crew over here at Autobahn Collision, just ask around. We're sure you'll only hear positive stories from folks who decided to bring their models in!
What's the Difference Between Uni-Body Frame and Body-On-Frame Models?
Not everyone is entirely familiar with the engineering and build of their vehicles and that's completely fine. We don't live in an age where we all necessarily need to know the inner workings of our cars, trucks, and SUVs like the back of our hands. Whether you've just recently bought your first new car or are an experienced "DIYer" with years of ownership under your belt, it might be beneficial to you know what type of frame construction your favorite vehicle holds under its exterior design.
In layman's terms, a uni-body frame consists of a vehicle's body and frame. Unlike body-on-frame models which have separate bodies and frames, models with the uni-body style of construction have bodies and frames that are essentially one consistent piece. Traditionally, body-on-frame models rule the off-roading arena thanks to their agile abilities. In terms of comfort and a more enhanced ride, it's hard to beat vehicles with uni-body frames. Generally, vehicles with uni-body designs are more modern and are equipped to most sedans and SUVs (especially those geared toward commuting and on-road efficiency) while the body-on-frame has been reserved for "beefier" trucks and SUVs that can trek both on and off the worn streets.
Experience the Autobahn Collision Difference
Worried that the cost of repairs will outweigh the value of your vehicle? Your insurance provider will ultimately figure the cost of the services your vehicle necessitates, but it can still often be in your best interest to get your uni-body framed vehicle repaired, especially if it's new and has been treated with care up until the recent collision.
Car repair technicians might not be traditionally lauded for their warm and welcoming demeanor, but take the short drive out to our car repair center here at 2555 E. Willis Road, Chandler, AZ and you'll find that we only staff the types of automotive technicians who have graduated to a stellar level of both customer care as well as automotive repair expertise. Our aim is to ensure you're completely comfortable with your decision to turn your vehicle over to our technicians. Our manufacturer trained and certified mechanics aren't only attentive, they're meticulous and quick. While uni-body frame repairs might not be the fastest and easiest of repair processes, we're committed to getting you back out onto the streets of Mesa and Tempe in as little time as possible.
Know that your vehicle will be treated with the most advanced equipment in the industry when you visit us at our 30,000 square foot car repair facility. Using the Car-O-Tronic Vision 2 X3 Electronic Laser measuring system, we'll have your uni-body vehicle back to showroom floor conditions in no time at all.
Put off your routine maintenance and uni-body frame repairs no longer. schedule your next service appointment and visit our online service center to find out why drivers in the Chandler, AZ area continue to choose us as their primary automotive repair facility. We look forward to caring for your vehicle and ensuring it's repaired back to the original factory specifications and quality!
Make an Inquiry